Chris and I have been in La Jolla since about 4pm Friday afternoon. I absolutely love it down here (San Diego, for those of you not familiar with Southern California). So I'm happy happy happy.The weather is nice--in the 70's--but there's that typical beach marine layer for most of the day. I suppose that's good since I'm not supposed to be in the sun. And frankly, we haven't had time. I seem to be feeling almost back to normal and my taste buds have returned. No more metallic taste. Which means...wine tastes good again. Really good. So we went to Bernini's Bistro Friday night (seafood stuffed prawns and asparagus risotto, with black cherry chocolate chip gelato for dessert; and an apparently bottomless glass of Viognier since the owner refilled it quite liberally without ever charging me; maybe he recognizes the scarf/chemo look!). Saturday we had a leisurely morning and then went to Azul's and met up with my college roommates. That's us--clockwise from upper left KATHY KARNES GARCES, MARTHA DORSEY, Yours Truly, and SUE GRALOW. Nice ocean view table we had, huh? Lunch was a ginger chicken salad and a nice Tavel Rose' wine. We couldn't remember exactly when we were all together last but it may have been at Kathy's baby shower-- her 13 year-old daughter and only child stopped by the table briefly to demonstrate just how long it had been!! We swore to do better and not wait for something like cancer to get us together again. We will at least get together 5 years from now to celebrate my officially being in remission; but Sue is in charge of getting us together earlier than that at her home in Murrietta so we can go wine tasting in Temecula (yeah, there's a theme here). Sue, it's in writing now, so you're "officially" on the hook. Although, I think perhaps the "I made it through the treatments" blow-out bash on July 18th might inspire them to visit Riverside.
After the 3 hour roommate lunch, I needed a nap (I'm not totally back to normal yet). Then we headed to downtown San Diego and the Wine & Culinary Center (theme? what theme?) to meet up with JOHN & CARRIE SCHUTZ and BARBARA ABEL for what else...wine. Oh, and put John in the camp of people who find my blog "wordy." What?? This from a man who is retired and spends most mornings on the computer and forwarding emails and awful lawyer and blonde jokes (there are no other kind). Wordy must be code for "boring." Huh. (Okay, maybe I see his point. Maybe another white blood cell crash will spice things up!).
Dinner at Morton's (got my steak fix, and a fabulous iceberg lettuce wedge smothered in bleu cheese and bacon!!) with John and Carrie, but I did have to switch to Pellegrino water...I have my limits still. You see where I didn't have time to blog? It takes hours to put together these wordy postings!! But now it's Sunday morning and we have nothing planned more stressful than lounging around, a walk on the beach and a little writing. Or a lot. It depends on our moods.
And speaking of writing... there was a clear winner on part one of the Epiphany poll. Seems you all think I'm most likely to have the "Good Friends and Good Wine are Good Enough" epiphany. And I tend to agree with you. 25 out of 54 votes went for that, with the "she will remain clueless and epiphany-less" coming in second with 16 votes. You were as unclear as I am about which epiphany I
SHOULD
have. The winner, by a little, tiny nose was "S
he should write that book and head out on an inspirational book/speaking tour reaching out to her pink clique of dark humor gals in her "Back Off People, I had Cancer!" black t-shirt"
with
16 votes
, but very close behind at
14 votes
was
"Good friends, good wine, good laughs are good enough, especially for a cancer (free) dork. (As a bonus, she'll also more easily recognize the aforementioned)."
And in a close third place position with
13 votes
, much to my horror, was "
Her body is a
temple and she should give up wine, eat right and start exercising religiously."
I can't tell if 13 of you hate me or are just worried about me. Or maybe you just don't know me and thus don't know the impossibility of that statement. So, even though it was barely a winner, I like the idea a little bit (I am, at times, a writer after all. Yeah, yeah, a wordy one. What. Ever.) and I will see if I can outline a full memoir out of this blog and my notes, journal, etc. from when Seamus had cancer. The Dog Lived (and So Will I) isn't a bad title. Is it? I realize my dying might make for a more dramatic arc to the story (Last Lecture anyone?) but I'm not willing to sacrifice that much for my craft. Besides, that would make an "inspirational" speaking tour a little difficult. More difficult than me attempting to be inspirational even.
As a reward for those of you able to read all the way to the end of my wordy blog posts, I will leave you with this image in the travails of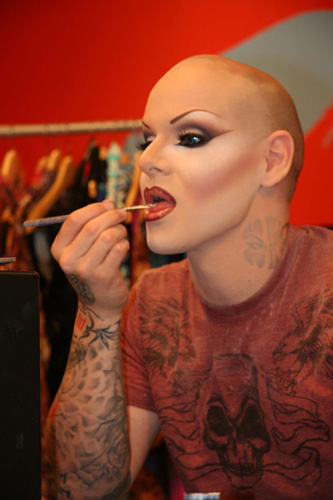 Cancer Dork. I mentioned that most of my eyelashes fell out. So yesterday I tried false eyelashes for the first time ever. In the end, it looked pretty normal and they were comfortable. But it takes some practice. And it
became very obvious: Bald Head + Long Fake Eyelashes = Drag Queen.